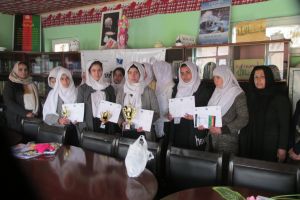 Business Proposal Competition in Malalai Shaeed Girls High School, Chaharasiab District
The business proposal competition in Malalai GHS, among Top 10 was held in collaboration with the high school in library on November 22, 2020. TEO Program Officer explained the proceeding of the program to the students, then the 10 contesters presented their BPs that the jury members evaluated them. It is worth mentioning that a number of students of this high school have been able to make small investments in their neighborhood through the knowledge of the Tashabos subject and financial support of the Ministry of Agriculture. At the end, the Top 3 winners were announced. The competition ended with the award of trophies, letters of appreciation and books about business to the contesters, which delighted them.
The three winners were as follows:
1- The winner of the first position, Ms. Asillaa, Grade 10 student, who presented her BP producing Afghan clothes and weaving work. She said, "I always participate in the exhibitions in Bagh-e-Babar and Ministry of Women's Affairs that I have good customers and I support my family."
2- The winner of the second position, Ms. Saadia, Grade 11 student, who also presented her PB about her company called Sunbul producing various types of jams and pickles. She after studying the Tashabos subject and with support from Ministry of Agriculture, started her business that by this time her products are standardized with logo, business name and packing.
3- The winner of the third position, Ms. Sahar, Grade 11 student, who presented her BP about producing Afghan clothes and simple clothes. She said, I before had tailoring only and now I produce Afghan clothes." She expressed, she is found of having small factory.