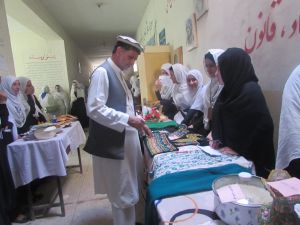 The Business Proposal Competition (BPC) was similarly organized in one of the school's rooms on January 14, 2021. The BPC started with recitation from the Holy Qur'an. The TEO team then explained to the contesters, the main points on how to present their Business Proposals (BPs). Some of the Top 10 contesters brought their products and displayed them to the jury members during their presentation their BPs.
The main points of the competition were:
• Qari Sameeullah Zia, Head of Supervision of the Jalalabad City Education Department and Mr. Asadullah Samim, Member of the Supervision visited the high school and they talked to the TEO team about the Tashabos program.
• Others present in the BPC, were the principal of the high school, the Tashabos teacher and Tashabos students.
• The jury members advised the contesters on how to improve and expand their businesses.
The following Top 3 students were selected
1- Ms. Sahra, Grade 11 student won the first place, who presented her BP about Salma weaving work. She started this business to be sulf sufficient and serve people.
2- Ms. Adela, Grade 12 student won the second place, who presented her BP about tailoring and embroidery work.
2- Ms. Faza, Grade 11 student won the third place, who presented her BP about embroidery work.
Tashabos students, those their BPs were not considered as Top 10, were present due to their interest in the Tashabos program.
The competition ended with the award of trophies, business related books and certificates of appreciation to students.