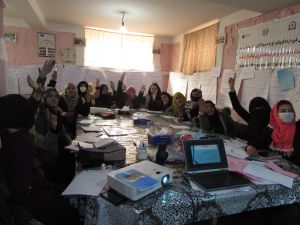 Top 50 Tashabos Students Business Management Training
Despite the high concern of insecurity, which usually affects the attendance of the participants, all together 25 participants in the first group were present.
TEO brought changes in the training methodology and materials, the changes in this training is that TEO combine the material from various sources such as USAID's Dastyar, which made the training more interesting.
The participation of Mr. M. Farid Saqib, Director of Science Centre from Kabul Province Education Department, who would stay throughout the training, is interesting and encouraging.
There were nine participants accompanied with Mahrams/relatives in the morning; however, in the start of the training four were convinced of the smooth environment of the training, so the left, while five stayed throughout the day one and in the day two and three, three remained, those who come from a far area.
The opening was attractive because of the topics linked to the Afghanistan context and Islam with focus on business ethics.
Pre-test could not be administered in day one because of the hectic day, which two sessions were also covered.
Participants' were also briefed on the various measures including health and hygiene due to the COVID-19.
Overall, the participants were active and enthusiastic.
تریننگ مدیریت تجارت ۵۰ بهترین شاگرد تشبث
با وجود تشویش در مورد امنیت٬ چیزی که حضور شاگردان را متأثر می ساخت٬ همه ۲۵ شاگرد گروپ اول حاضر بودند.
مؤسسه تعلیمی و تربیتی تشبث در میتود و مواد تریننگ تغییرات آورده٬ تغییرات عبارت از یکجا ساختن مواد تریننگ از منابع متعدد همچو (دستیار)٬ تریننک را بیشتر دلچسپ ساخت.
اشتراک محترم محمد فرید ثاقب٬ رئیس مرکز ساینس ریاست معارف ولایت کابل٬ در تریننگ باعث دلچسپی سایر اشتراک کنندگان شده است.
در شروع روز اول تریننگ نو نفر محرم شاگردان را همراهی می کردند٬ بعد از ساعتی چهار نفر بنا بر اطمینان که از محیط تریننگ حاصل کردند دفتر را ترک گفتند٬ و در روز سوم دوم و سوم نفر محرم که از جاهای دور می آیند باقی ماندند.
افتتاح تریننگ که با معلومات و موضوعات زیربط قرینه افغانستان و اسلام متمرکز به اخلاق تجاری دلچسپ بود.
چون روز اول مملو از سایر موضوعات (شلوغ) بود٬ ارزیابی قبل از تدریس انجام داده نه شد.
اشتراک کنندگان در مورد سائر تدابیر به شول صحی و نظافت از جهت کرونا اگاهی حصل نمودند.
درهمه اشتراک کنندگان فعال و علاقمند بودند.