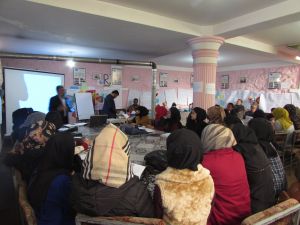 Management Committee Meeting
Final Top 10 Business Proposal Competition National Event
Management Committee of Final Top 10 Business Proposal Competition held meeting on Sunday, March 7, 2021. The Management Committee (MC) meeting with participation of Tashabos teachers, Tashabos Educational Organization team, Top 50 and Top 10 Tashabos students started with recitation of some verses from the Holy Quraan and discussed various matters such as: the organization and discipline of the Final Top 10 Business Proposal Competition national event, specified and determined duties of the MC members, evaluated and selected announcer for the event, the national anthem, the poem and scout teams were specified and their duties were defined and other related and necessary decisions were made too.
جلسه کمیته تدویر محفل نهایی ده طرح تجارتی برتر
یکشنبه ۱۷ حوت ۱۳۹۹ بعد از ظهر جلسه کمیته تدویر محفل نهایی ده طرح برتر در صالون کنفرانس مؤسسه تعلیمی و تربیتی تشبث با تلاوت آیات کلام الله به اشتراک استادان تشبث٬ تیم مؤسسه تعلیمی و تربیتی تشبث و شاگردان با ۵۰ و ۱۰ طرح برتر دایر گردید. کمیته تدویر محفل نهایی٬ مواردهمچو ترتیب و تنظیم محفل نهایی٬ تقسیم و مشخص کردن وظایف٬ ارزیابی وانتخاب انانسر یا گوینده محفل٬ تیم های سرود ملی٬ ترانه تشبث و څارندوی با وظایف ایشان مورد غور قرار دادند و در زمینه تصامیم لازم را اتخاذ نمودند.