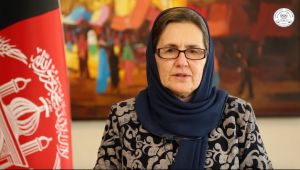 I am glad to be together once again to celebrate the achievements of another year of the Tashabos program. Congratulating and celebrating the great success and efforts of the small team of the Tashabos. These activities and achievements add to your experiences every year and enable you to accomplish greater achievements.
The Tashabos Educational Organization, which has been operating in Afghanistan for thirteen years, has fortunately been run for six years by a small team of our Afghan brothers and sisters. This year, the organization also launched business proposal competitions among 42 schools in four provinces of the country. After going through the process, 1,150 students succeeded to make it to the competitions that today, we are witnessing the Top 10 business proposals competition. It makes me happy that a large number of Grade 10 to 12 students use this opportunity and can create chance of small businesses for themselves.
We all know that Afghanistan is one of the developing countries and the government has only tried to lay the foundations for the economy by inaugurating dams, air corridors and water management in Afghanistan. Afghanistan's industry is also developing, but much remains to be done to advance Afghanistan. Therefore, we hope that our beloved youth will use this golden opportunity. Because youth have tremendous power, energy and motivation to be involved in economic activities and to take an active part in rebuilding the country.
In the beginning, business is not about success and failure, it is about gaining experience. If you fail at the beginning of the business, you should not be disappointed, because this is a small business and you will not suffer big financial losses; rather, you should identify gaps from this failure and address these shortcomings for the next steps. Small and medium businesses are of special importance because they bring economic stability among the middle class of the country. When a middle class country has its own economy, then the country achieves social and political stability. Here, we can say that when everyone is engaged in economic activity, the economic situation of the country will be strengthened.
Beloved students, you are given the opportunity, not only in the family economy but also in the development of the country, to be active. Therefore, take advantage of this opportunity and play your part in the development of the country. Wishing you more success, beloved youth.
Allah is the Grantor of Success