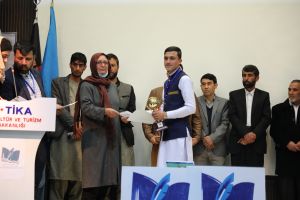 In the name of almighty Allah JJ
Wishes you all, are healthy and safe; my name is Ahmad Shah, last name Afghan Noor Sediqi, son of Alhaj Noor Mohammad Sediqi, 2020 Char-Asyab BHS Tashabos student. My business plan is painting, drawing and authorship.
Business plan purpose is to earn Halal income, serves to countrymen, and self-reliance. I have not yet obtained business license. Net monthly profit is 4000 AFs. Business location is Kabul Char-Asyab District.
The main idea that caused to start authoring books; was a sentence that "Burn your-self and provide lights to others. My first book, I wrote was in 2015".
https://youtu.be/2fMgPNrEx6o
ارائیه طرح تجارتی محترم احمد شاه افغان نور صدیقی در محفل نهایی رقابت ده طرح بهترین تجارتی
امیدوارم دارای صحت کامل باشید، اسم من احمد شاه تخلص افغان نور صدیقی فرزند الحاج نور محمد صدیقی، شاگرد لیسه عالی ذکور چهارآسیاب سال 1399 جاری در ولسوالی چهارآسیاب کابل. طرح تجارتی، نویسندگی شعر و رسامی، اهداف طرح، بدست آوردن رزق حلال و خدمت نمودن به هموطنان و خودکفایی. جواز تجارتی تا فعلا اخذ نشده. مفاد خالص ماهوار 4000 افغانی. موقعیت کاروبار، چهارآسیاب. مفکوره، مفکوره که به ذهن من آمد از برکت یک جمله بود که من خواندم و نوشتن کتاب را شروع کردم که نوشتن کتاب من در سال 1394 هجری شمسی بود آن جمله عبارت است از: خود را بسوزان و به دیگران روشنایی فراهم کن.