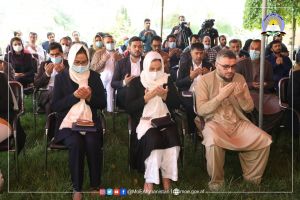 • TEO during the last six years graduated 71,671 Tashabos students and provided graduation certificates signed by MoE and TEO.
• TEO built the capacity of the 63 Tashabos teachers, while majority received several trainings, for a total of 310 teachers trained (57% female and 43% male).
• TEO conducted pre- and post-tests of 6,000 Tashabos students each year two times.
Tashabos students are enjoying the Tashabos program as it provoke hidden talents and empower youth socio-economically. Now many of the Tashabos students entrepreneurs are self-reliant and they are able to pursue their high education.
در ماه ثور ۱۴۰۰ برنامه تشبث تمدید شد و تفاهم نامه همکاری بین وزارت معارف و سه شنبه، ۲۱ ثور ۱۴۰۰ امضا شد. این برنامه امسال در ۲۸ لیسه در شهرهای کابل، ولایات کابل، پروان، ننگرهار و بامیان ادامه دارد. حدود ۲۱۰۰۰ شاگرد دختر و پسر در صنوف ۱۰ ۱۱٬ و ۱۲ شامل تحصیل در برنامه تشبث هستند.
دست آوردها برنامه عبارت اند از:
• مؤسسه تا اکنون۷۱۶۷۱ شاگرد تشبث را فارغ داده است و آنها سند فراغت به امضأ وزارت معارف و مؤسسه به دست آورده اند.
• مؤسسه ۶۳ استاد تشبث را ۳۱۰ بار آموزش داده است.
• مؤسسه ۶۰۰۰ شاگرد تشبث را در هر سال دوبار مورد ارزیابی قرار داده اند.
شاگردان از این برنامه که باعث تحریک استعدادهای پنهان و توانمندسازی اقتصادی و اجتماعی جوانان شده اند لذت می برند. اکنون بسیاری از شاگردان کارآفرین به خود متکی هستند و توانسته ازین راه تحصیلات عالی خود را دنبال کنند.