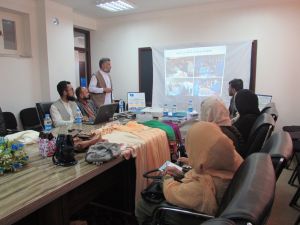 The meeting was took place three days before the Taliban Emirate came to power.
The Deputy Director of the Parwan Educational Department and team, a representative from the Governor Office and a representative from the Parwan Department of Women's Affairs attended the meeting.
The meeting was about the Tashabos program and support of the parties involved, who all promised to cooperate.
The products of one of the Tashabos students were also exhibited in the meeting.
تیم مؤسسه تعلیمی و تربیتی تشبث روز پنجشنبه ۲۱ اسد ۱۴۰۰ در ریاست معارف پروان جلسه داشت
مجلس سه روز قبل از حاکمیت امارت طالبان دایر گردید
در مجلس معاون ریاست معارف با تیم وی٬ نماینده ولایت و نماینده ریاست امور زنان اشتراک ورزیده بودند
مجلس در مورد برنامه تشبث و حمایت جوانب ذیدخل بوده که همه وعده همکاری باهمی نمودند
در مجلس تولیدات یکی از شاگردان نیز به نمایش گذاشته شده بود.