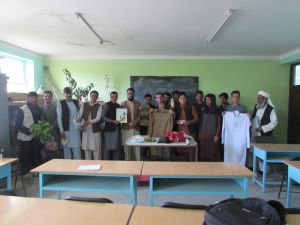 Hours: 9:45 to 11:00 pm
Location: Chahar Asiab Male High School, Laboratory Room
The Teshbath students productions exhibition is one of the important activities of the Teshbath program, which fortunately today, with the hosting of the student s' production exhibition at the Chahar Asiab Male School, the Teshbath educational and educational institute, started its activities after a long time.
In this production exhibition, the members of the Teshbeth Educational and Educational Institute team, the professor and students of Tshteth participated, which took place with the students about the goals of the exhibition.
The important points of this exhibition are:
– In the first step, the manager of the Teshbeth program thanked the school management, the teachers and the students for working together in coherenting this exhibition and then on the objectives of the exhibition, which are to showcase the understanding of the clingy that the students gained from reading the theme. Sharing experiences with other students, showing your skills, and that if we have a specific goal in our life, it becomes a goal that fights every obstacle. Also, other talks about this exhibition took place, and all the students of this exhibition gave information about their business plans and productions to the participants of the exhibition.
– In this exhibition, 14 students from the 14th and 14th grades had displayed their products.
– The products displayed were: agricultural products, stitched goods and cocktails, slice boxes, some items from shops, painting and sculpting and some pharmaceutical samples from pharmaceutical companies.
– Some students also mentioned the value of the Tashbath program that some students have been able to develop their business by participating in this program and create a positive mindset in them.
– During this exhibition, one of the participants dedicated the following poem to the participants:
Ask once for real.
Be loyal in your love.
Don't be ignorant, learn well.
The evening has lighted the ignorance.
I tolerate separation like Jacob.
Look, laugh all your life again.
Don't come out of the house without hijab.
The young girl has some shame from Allah.
Your prayers will be answered.
Please pray for me too.
May God save yourself.
Raskh Malanga has done good piety.
– Finally, the students were ordered to write their business plans according to the institution's business plan so that they could use this opportunity well.