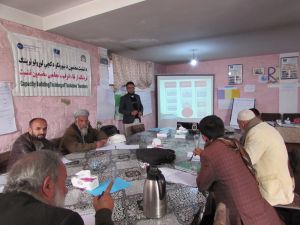 On this day, five sessions were covered (responsible citizenship, how to start a business, significant issues in an enterprise, the role of entrepreneurs in economic activities and continuous development, communication-marketing and networking). Further, on this day, individual work of intellectual counseling and group work on the above themes took place, in which the participants actively participated.
A video was shown too on how to take orders and provide the product to the customers. Watching this video was very effective in keeping in mind matters such as paying attention to delivery time, honesty in commitment, providing the materials needed to make the product to the customer, and so on.
د ورکشاپ د دویمې ورځې لنډیز
دوهمه ورځ د کلام پاک په تلاوت سره پیل شوه. بیا له ګډونوالو څخه د تیرې ورځې د درسونو د شمیر په اړه پوښتنې وشوې او د استادانو لخوا ورته ځوابونه ورکړل شول. په دې ورځ (مسؤول تابعیت، د سوداګرۍ پیل څرنګوالی، په یوه تشبث کې د پام وړ مسایل، په اقتصادي فعالیتونو او دوامداره پرمختګ کې د متشبثینو رول، اړیکی – بازارموندنه او شبکه کول) پنځه غونډې ولوستل شوې.
په دې ورځ په پورتنیو موضوعاتو باندې د فکري مشورې انفرادي او ډله ایز کار ترسره شو، چې ګډونوالو په کې فعاله برخه اخیستې وه. پدې ورځ ، یوه ویډیو خپره شوه چې څنګه فرمایش واخلي او پیرودونکي ته محصول چمتو کړي چی د دې ویډیو لیدل د موضوعګانو په پام کې نیولو کې خورا اغیزمن وو لکه د تحویل وخت ته پاملرنه، په ژمنتیا کې صداقت، پیرودونکي ته د محصول چمتو کولو لپاره اړین توکي چمتو کول او داسې نور.